1. Poor Connor is sniffly again. It's either from teething or he has ANOTHER cold.
2. Garrett, did you submit the taxes last night? I want my money back from the government.
3. The more you learn about photography, the more gadgets you want (and those gadgets don't always come cheap).
4.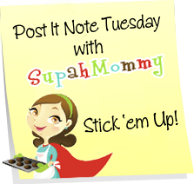 5. I need to make it to Sephora before my makeup runs out.
6. I have a new tab at the top of my page linking to an updated 51 in 1001 list.
7. I am trying to figure out how to spruce up my blog without paying someone to design in for me. I'm totally smart enough to figure it out myself, it's just finding the time.
8. I can't believe Connor is almost 6 months old. Crazy.
9. I got a new neclace from
MamaBethBling
on etsy. I love it. Cute & personal.
10. Mmmmmm, we had tacos last night. They were GOOD. I wish I was having them for lunch today.